Food Justice Projects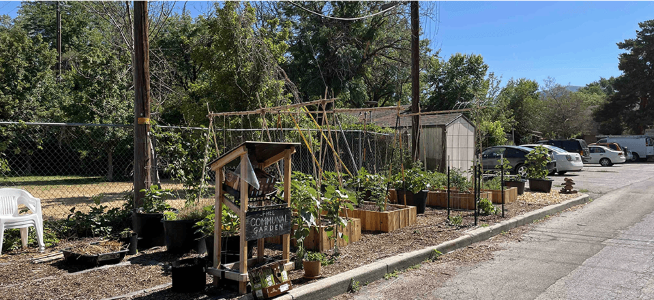 Growing Educational Pathways for Food Sovereignty
Given that garden spaces have been effectively used to build community and restore health, this action research project has launched a reciprocal gardening program between the University of Utah's campus gardens and Hartland Community 4 Youth & Families to create pathways for marginalized students to attend the University of Utah. Researchers will explore the role that gardens based in food sovereignty can play in retention of diverse students from marginalized populations.
Joyner, L., Yagüe, B., & Cachelin, A. (2023). Promoting food systems paradigm shifts through critical reflexivity: Exploring interviews as Intervention. Social Sciences, 12(5), 280. https://doi.org/10.3390/socsci12050280
Joyner, L., Cachelin, A.,Yagüe, B. (2022). Increasing Food Sovereignty: Insights from Salt Lake City Farmers and Food Advocates. Research summary and report prepared for SPARC Environmental Justice Lab, Salt Lake City, UT.
Joyner, L., Cachelin, A., Yagüe, B., Rose, J. (2022). Farms and gardens everywhere but not a bite to eat? A Critical Geographic Approach to Food Apartheid in Salt Lake City. Journal of Agriculture, Food Systems and Community Development. https://doi.org/10.5304/jafscd.2022.112.013.
---
Savoris a collaborative project celebrating the intersection between culture and community through food in West Salt Lake. Back by popular demand, a new farm to table Savor cookbook will contain a collection offifteen recipes and contributor profiles from participants originating from 12 different countries. Students work with data collected from immigrants and refugees to discover and document local foodways while considering how the creation of books like thismay serve social justice.
Cachelin, A. (Ed.). (2015). Savor: Stories of Community, Culture, & Food. Salt Lake Education Foundation. Salt Lake City, UT.
*Note: Above link is an excerpt, not entire publication
Cachelin, A., Ivkovich, L., Jensen. P., & Neild, M., (2019). Leveraging foodways for health and justice. Local Environment, 24(5) 417-427. https://doi.org/10.1080/13549839.2019.1585771.
---
Food Justice and Gentrification
Students in this project look at how food justice projects in communities across the country have impacted gentrification and collect and analyze data from food policy groups across the country.
---
Understanding Mutual Aid Gardens for Urban Resilience and Food Sovereignty
This project aims to better understand the current status of food-related mutual aid projects in Salt Lake City. Students pursue a qualitative approach to this research, conducting semi-structured interviews to determine how mutual aid projects started, how they're supported pre- during, and eventually post pandemic, while also analyzing the role in long-term resilience strategies. Students and faculty use both quantitative and qualitative methods to analyze the impacts of this initiative for community partners.
---
Food Forests On Public Land
This research is designed to help local urban agriculturists understand how public food forests function on public lands. In this project students will
research food forest models across the country and collect data regarding public opinions on food forests.
SLC Westside Environmental Justice Story Mapping
Examining how political and economic practices have contributed to food apartheid and environmental injustice in Salt Lake City's Westside, students and community practitioners are creating a comprehensive story map to make this information available to planners and policy makers.
---
Recognizing that resistance to cheap and convenient food may be best built around understanding the ways in which food acts as a relational device that builds both identity and community, this research seeks to understand and support cultural foodways in working towards health.